Shunde cuisine has been gaining traction in the Klang Valley among certain Chinese restaurants but by and large, most local diners are in the dark about this regional cuisine from Guangzhou, China. Shunde is
a land of plenty; its fertile river plain makes it ideal for fish farming, fruit production and flower cultivation. The familial roots of the late kungfu superstar Bruce Lee is said to originate from here.
Pix courtesy of Chasingfooddreams
My enterprising restaurateur friend Caren Poon then took me to dine at Youmiqi Cuisine, a low-key Chinese restaurant along Old Klang Road famed for its Shunde specialities. Having passed it countless times, I realise its 'blink and you'll miss it' location means the resto is easily overlooked by the less observant.
As an offshoot of Cantonese cuisine, Shunde specialities emphasise the freshness of its bountiful produce so Youmiqi stays true to this philosophy with tanks of live fishes and seafood available on premise for customers' picking.
Shunde Braised Seafood in Wok (seasonal price applicable according to choice of ingredients) tops the list of 'must have' dishes here. Served in an oversized copper wok with some chopped spring onion and coriander, the bubbling melange of goodies we had included fried tiger grouper, crabs, clams,
prawns,
fish balls, clams, sliced yam and beancurd sticks. As we took our time savouring every delicious morsel, the broth gradually thickened into a sublime concoction bursting with rich umami flavours. This speciality alone is worth returning for.
Coming in a close second is Roasted Standing Ovation Chicken (RM88), a unique offering which has a whole freerange chook roasted upright. The browning was noticeably even on almost every part of the chicken; a bronze sheen on slightly crisp skin covering tender, juicy meat. You can ask for it to be chopped or if you prefer, just shear chunks of the roast chicken off at the table.
For us, the best part was the sweetly flavourful jus pooled inside the holding dish which is akin to chicken essence.
Just a taste of this tasty jus alone deserves applause.
It was third time lucky for us after we sampled the Claypot Rice with Village Chicken (RM40). If you're a farn toong or rice fanatics like moi, this sizzling pot of fluffy rice laced with soya sauce, chunks of toothsome choi yin gai (village chicken) and loads of spring onion is the bees' knees.
I particularly love the smoky and charred crusty bits scraped up from the bottom of the pot. Such comfort food is a surefire winner nobody would ever tire of eating repeatedly.
Master Chef Flaming Wine Prawns (RM120) makes an awesome foursome in Youmiqi's signature dish list. Bear in mind this serving ain't for the faint-hearted as fresh from the tank, live prawns are doused in Chinese wine before they end up in the super-hot cast iron pan.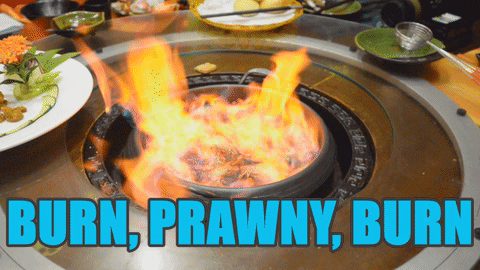 Once the alcohol has burned off, the prawns knocked our socks off with their subtly wine-infused sweetness and wonderfully springy texture. A splendid testament to their undisputed freshness and that unadulterated ching (clear) nuance so prized by the Cantonese.
Jumping into the fifth spot is Fried Spiced Frogs with Salt & Pepper (RM48). Some restos have a knack for doing jiu yim - literally salt and pepper coating - and Youmiqi pulled it off with panache. The crisp, light batter coating speckled with salt, ground pepper and spices made the dainty bite-size pieces of theen gai (edible Asian bullfrogs or paddy chicken) wickedly addictive. Try one and you'd return for more.
The sixth raveworthy speciality is Fried Meat Patties with Wong Dai Choi
(RM38). Despite our best efforts, we have no idea what was the mysterious
veggie
that bore such a regal name. In Chinese, wong dai choi literally means 'king's vegetable'. Chopped up and mixed with minced pork to form the discs of patties, the addition of the veg helped to boost the
scrumptious mouthfeel - a delectable
combination of soft, chewy and crunchy textures
.
Golden Sands Yong Tau Foo
(RM23) emerged as the magnificent seventh dish to try at Youmiqi. Now that salted egg yolk is all the rage, we weren't surprised but delighted to find fried taufoo pok (beancurd puffs) stuffed with meat and fish paste came in a light, gritty coating of salted egg yolk. This creation was a clever interplay of textures, perked up by alluring umami flavour. Simply unforgettable.
Eight is great according to the Chinese and to prove it, I pick Oatmeal Custard Buns (RM29) as the eighth 'must makan' treat. The golden brown buns looked so tempting with their pretty crisscross patterned surface. Cottony soft, their airy centre was filled with the most enticing honey-gold, caramelised custard. Conjured up from a blend of oats and maltose, the sweet buns were ethereally delicate yet oh so irresistible!
Some of the more elaborate dishes may require advance notice and prior reservations so it's best to call ahead and make bookings for them. Also do reserve ahead of time before visiting as the restaurant is gaining in popularity among those in the know but its existing space is rather limited to fit too many diners.
For reservations at Youmiqi Cuisine, call
tel: 03-7980 0855. The nondescript resto is located at
57, Jalan Klang Lama,
Kuala Lumpur.